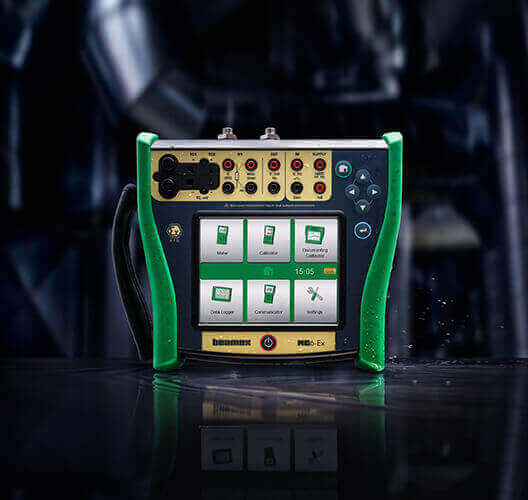 Beamex presents a calibrator advanced field and intrinsically safe communicator, called Beamex MC6-Ex.
Beamex has been producing calibration equipment for more than 40 years and intrinsically safe process calibrators for more than 30 years.
In many process industries, there are certain areas in the plant that are classified as "Dangerous Zone" or "Ex Zone." This is an area that contains or may contain flammable substances: gas, vapor or dust. Typical industries with hazardous areas include the chemical and petrochemical industry, gas and oil (plants onshore and offshore ), refineries, the pharmaceutical industry, food and beverages, production of energy, painting and mining workshops.
If a technician wants to work with a normal, non-ex calibrator in an area classified as hazardous, you will need to have a special work permit, which takes time, effort and bureaucracy. You will also need to do a risk analysis and have additional safety equipment with you as gas detectors. Using an Ex certified intrinsically safe calibrator in an Ex zone is the easiest and safest option.
An ideal device for use in the field
Now, Beamex introduces a new calibrator called Beamex MC6-Ex.
The Beamex MC6-Ex is an advanced calibrator and communicator, highly accurate with exceptional features. It is a multi-function document and communicator calibrator, which offers capacity for the calibration of pressure, temperature and electrical signal measurement instruments. It also contains a field communicator for HART instruments, Foundation Fieldbus and Profibus PA.
MC6-Ex is an IEC and ATEX certified calibrator and can be used in any Ex zone / division, even in the most demanding ones (Zone 0 / Division 1). The certification classification is Ex II 1 G and Ex ia IIC T4 Ga.
It is important to note that some calibrators / Ex devices on the market are not suitable for all Ex zones that a plant could have, they can cause potentially dangerous situations.
Its robust housing, rated IP65 dust and water resistant, along with its ergonomic design and ease of use make the MC6-Ex an ideal device for field use.
The MC6-Ex communicates with the calibration management software Beamex, which allows a fully automated calibration and obtain the documentation of the same without the use of paper. The MC6-Ex can also be part of the integration, without the use of paper, with the client's ERP system.

Other features included:
internal power supply to power a loop / instrument
up to three internal pressure measurement modules and connection for external modules
5.7-inch color backlit and tactile screen
multilingual user interface
replaceable smart battery
integrated field communicator
ability to document calibrations and a data record
communication with pressure controllers and dry temperature blocks in a safe area
"We are really happy to launch this new calibrator and communicator MC6-Ex. We believe that this is the first intrinsically safe gauge on the market that does not have limited functionalities," said Jan-Henrik Svensson, counselor Beamex delegate.
MC6-Ex establishes a new pattern to its line of intrinsically safe process calibrators.
Beamex, our represented, is a leading global provider of calibration solutions that meet the most demanding requirements for process instrumentation. Beamex offers a wide range of products and services – from portable calibrators to workbenches, calibration accessories, calibration software, industry-specific solutions and professional services. Through its subsidiaries, branches and a wide network of independent Beamex distributors, its products and services are available in more than 80 countries. Beamex has more than 12,000 customers worldwide.
Do you want to receive more information or receive a quote, without commitment, of some of our products?