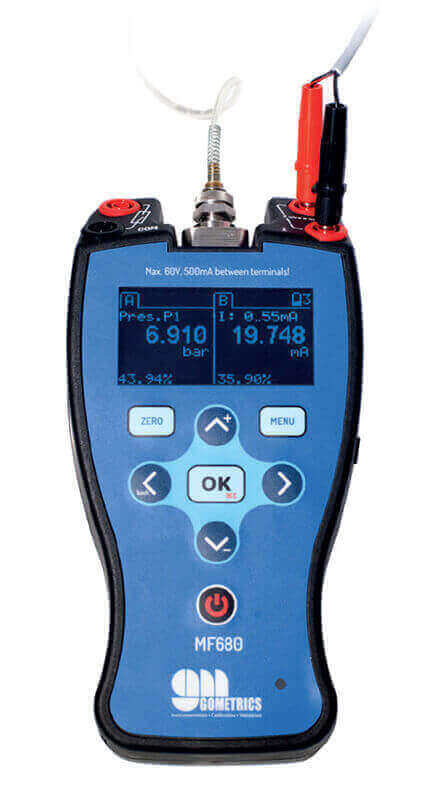 Gometrics announces the release of a new process instrument calibrator designed for industrial maintenance professionals and instrumentalists.
The MF680 combines ease of use, robustness and precision. Its multifunctional capacity, as well as the possibility of connecting the calibrator to external pressure modules, translates into great versatility when calibrating different instruments: digital indicators, pressure gauges, contact type pressure alarms and pressure or electrical transmitters.
The MF680 calibrator features a display 128×64 pixel, 2.7″ LED-based graphic display for optimum visibility at any viewing angle. The firmware is installed in a microprocessor. The instrument can be equipped with an internal strain gauge pressure sensor – in stainless steel for ranges above 1 bar – which gives it great robustness and durability.
The MF680 comes with a miniUSB connector for downloading data and updating for future enhancements of firmware. It can also measure or generate current simultaneously. Displaying both variables on the screen saves time and improves the user experience. Being able to work in percentage values for input and output signals reduces the possibility of error in the calibration of pressure transmitters.
The MF680 has an intuitive, multi-language menu with quick access to the functions of pressure measurement, measurement or current and voltage generation and contact status detection. It can also house a barometric pressure module.

Main features of the MF680:
· Pressure ranges and types: 0-25 mbar to 0-350 bar (relative)*
· Simultaneous dual reading: pressure and current on the same display
· Active or passive mode operation (with or without 24 Vdc source)
· Indication of the results (or error) in absolute or percentage values
· Leakage test
· Display of max. and min. values of the readings
· Data logger for recording and storing data
· External pressure sensors
· Optional barometric module
· PC software for firmware upgrades
*other ranges and types of pressure available (vacuum, combined, absolute).
The MF680 calibrator is supplied with:
· Transport bag
· Electrical connection cables
· USB cable for PC connection
· Battery charger
· Instruction manual
· PC software
· ENAC calibration certificate
Would you like to receive more information or receive a non-binding quote for this product?